Description
Samsung BMF 2-Door 310L Digital Inverter RB30N4050B1/ST
Capacity

Net Total(Liter): 310 ℓ
Net for Freezer(Liter): 92 ℓ
Net for Fridge(Liter): 218 ℓ

Physical specification

Net Width(mm): 595 mm
Net Case Height with Hinge(mm): 1700 mm
Net Case Height without Hinge(mm): 1680 mm
Net Depth with Door Handle(mm): 663 mm

Cooling Feature

Cooling Type: All Around Cooling

Refrigerator Feature

Deodorizer: Yes
Number of Shelf (Total): 4 EA
Spill Proof: Yes
Number of Door Pocket: 3 EA
Egg Container(Egg Tray): Yes
Optimal Fresh Zone: Yes
Interior LED Light: LED
Shelf Material: Tempered Glass
Number of Vegetable&Fruit Drawer: 1 EA
Power Cool Function: Yes

Freezer Feature

Number of Shelf (Total): 1 EA
Number of Drawer: 1 EA
Icemaker: Movable Ice Maker

Performance
Energy

Energy Star Rating: 5 Star

Warranty: 1 Year
Fresh without freezing for twice longer*
Optimal Fresh zone
The new Samsung RB4000 features Optimal Fresh zone, that keeps your meat and fish fresh for twice longer* without ice freezing.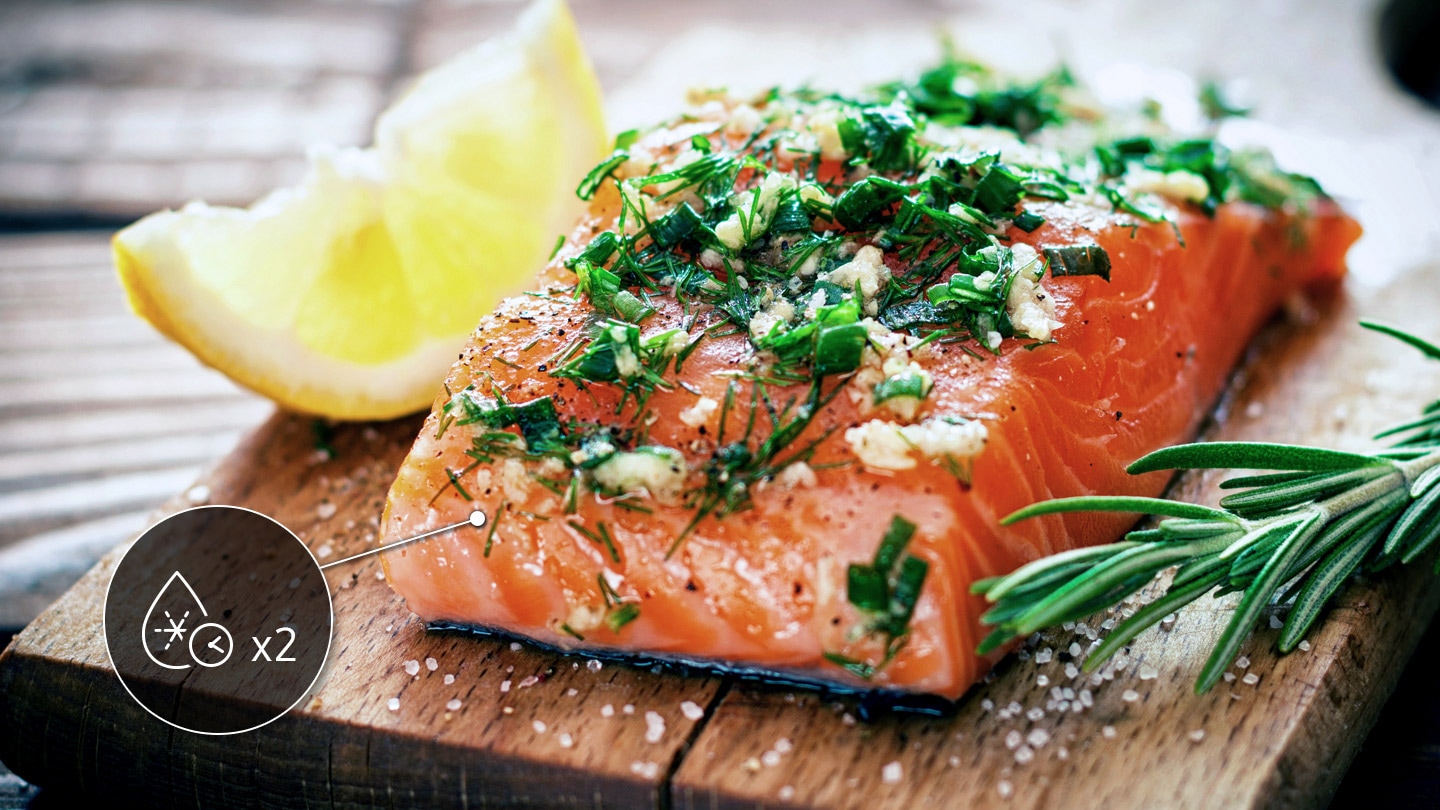 Customizable to adapt to your needs
Optimal Fresh zone
Use it as Optimal Fresh zone to store meats and seafood fresher for twice as long* without freezing them, or simply slide the knob at the back of the compartment to change it back to the ordinary fridge, depending on your needs.

Works smart, stays young, saves more
Digital Inverter
Digital Inverter compressor automatically adjusts its speed in response to cooling demand across 5 levels. So it uses less energy, minimizes noise and reduces wear and tear for longer-lasting performance. 21-year life span has been guaranteed by VDE, the authorized certification committee in Europe.

Bigger storage of meats, veggies and frozen foods
Optimal Fresh zone, crisper, and freezer
The RB4000 refrigerator has a large capacity Optimal Fresh zone to fit a whole chicken keeping it fresher longer, a big freezer to toss the ice bags in, and a big veggie box to store all of your fresh vegetables and fruit. So you can store more of what you use the most.

Evenly & optimally cools every corner
All-around Cooling
The All-around Cooling system cools the fridge evenly from corner to corner. Cold air is blown out through multiple vents on every shelf level, so it maintains a constant temperature and food stays fresher.