Description
Model: BT3216/14
Warranty: 2 Year
0.5mm precision settings
Stainless steel blades
60 min cordless use/1h charge
Lift & Trim system
Precision (size of steps): By 0.5 mm
Range of length settings: 0.5 up to 10 mm
Cutter width: 32 mm
Cutting element: Stainless steel blades
Non-scratching teeth: For more comfort
Number of length settings: 20 integrated length settings
Comb: Lift & Trim system
Pouch: Storage pouch
Maintenance: Cleaning brush
Run time: 60 minutes
Charging: 1 hour full charge
Battery Type: NiMH
Automatic voltage: 100-240 V
Zoom wheel: Easily adjust length settings
Display: Battery low indicator, Charging indicator, Battery empty indicator
Cleaning: Rinseable attachments
Operation: Corded & Cordless use
Handle: Ergonomic Easy Grip
No oil needed: Yes
Lift & Trim comb guides hairs to the blades for an even trim
Trim your stubble beard with our new Lift & Trim system: the comb lifts and guides the hairs to the level of the blades for an even trim.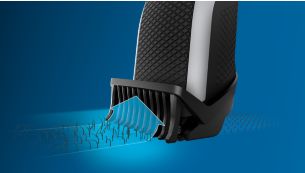 Stainless Steel Blades for long-lasting sharpness
Get a perfect yet protective trim, time after time. The trimmer's steel blades lightly brush against one another, sharpening themselves as they trim so they stay extra sharp and effective as on day 1.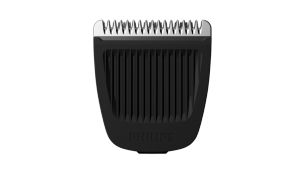 Skin-friendly blades for smooth skin
Blades have rounded tips for smooth contact with skin to prevent scratching and irritation.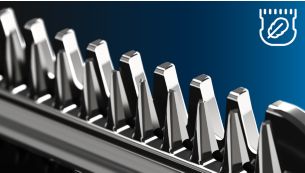 20 lock-in length settings, 0.5 - 10mm with 0.5mm precision
The zoomwheel lets you choose from 0.5 to 10mm length settings, with 0.5mm precision steps.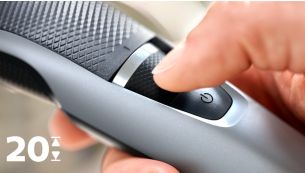 60 minutes of cordless use or plug it in
Charge your trimmer for 1 hour to get 60 minutes of cordless use or use it plugged in while charging.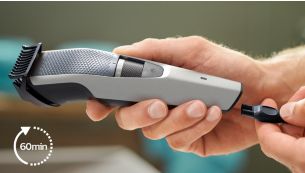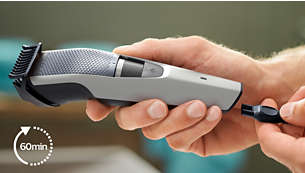 Lights indicate when battery is low, empty, full or charging
The battery indicators in this trimmer let you know what your battery status is: Low, empty, charging or full. This way, you can charge your trimmer on time and fully, so you won't end up with an empty battery in the middle of your trim.